Imagine being in the vibrant energy of Miami, with the soothing sound of waves crashing on the sandy shores and the fashionistas gathering to witness a spectacle of style and creativity.  Matte Collection would create this ambiance at their ethereal all-white wonderland, PARAISO Swim Week presentation.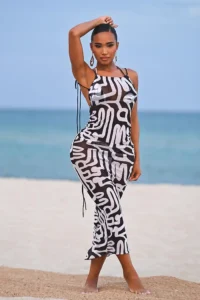 As the show commenced, harmonious melodies from a soulful choir echoed through the air, serenading the audience throughout the event. The 150 attendees eagerly waited to witness the latest from Matte Collection.
 Their presentation showcased a mesmerizing array of bold and abstract designs, complemented by luxury resort wear- all exuding the signature Matte Collection sophistication and charm. Their striking abstract prints and eye-catching color combinations left everyone in awe.
 Matte Collection Founder Justina shared her creative insight into the collections. On record, she shares, "Through the Abstract Collection, I wanted to feature styles that are elusive, poetic, and imaginative; rather than representational.
Matte Collection would also reveal their versatile Resort Collection featuring a stunning array of knit dresses, perfect for a day at the beach or a night on the town.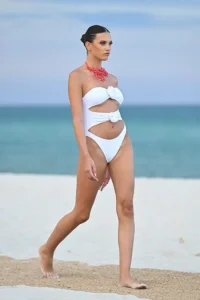 To top it off, they revealed the exclusive Flowers in Bloom Collection. True to the Matte Collection essence, this line added an exquisite rose detail to the front of their swimsuits, infusing a touch of romance and allure.
The best part? The Abstract Isle and Resort Collections are already available on their website, with the Flowers in Bloom Collection coming soon. If you want to elevate your beachwear game or make a statement this summer, you know where to find the most exquisite pieces!
For more on Matte Collection and to shop the latest collections, visit mattecollection.com and follow their social media @MatteCollection.