Philanthropist, model,  recent Sports Illustrated Finalist and Brain Cancer survivor Victoria Vesce has a long history of advocacy and philanthropy with various organizations, but her advocacy took on new meaning when she became a cancer survivor at age 24.
Victoria has raised a small-town southern girl who has always had big dreams of pursuing something great. She grew up on a Buffalo Farm in rural eastern North Carolina. Feeling like there was a larger world to explore, she  states, "I always knew I was bigger than my hometown." 
In 2016 and 2017 while dancing in the NBA for the Charlotte Hornets, and studying for the LSAT, Victoria started losing her hearing and experiencing extreme headaches. She began experiencing symptoms like fainting, unexplained adrenaline rushes, and dizziness. After a CAT scan and repeated visits to the doctor and ENT, she was diagnosed with a tumor. Doctors discovered another tumor (carotid artery) during an MRI. Surgery occurred 6 weeks later, and following that, Victoria underwent 30 rounds of experimental radiation treatment.
Today, Victoria is fully deaf in her right ear and chronically suffers from tinnitus. She enjoys a new perspective on life and has gratitude for the organizations and people who have helped her along the way.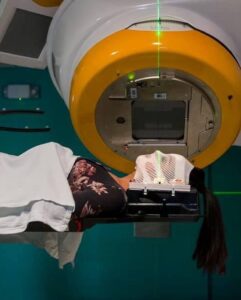 Victoria states, "My motto in life now is that life is short. I have quit shaming myself or changing myself to please others. I own my life, imperfections and all. I want to help others to reach a point of good health, happiness, and fulfillment – as I have," said Ms. Vesce. "Brain Tumor Awareness Month presents a chance to become educated about the issues that affect people with cancer diagnoses. It's also a chance to give to organizations that save lives." 
Even with a life that has been completely altered, there is no slowing Victoria down. She currently works with Berman Law Group in South Florida and continues to model and grow her social media platform. She is a signed model with JL Model Management and Marilyn's Agency. She recently became a finalist for Sports Illustrated Swim. She says going to the Dominican Republic, shooting with the team, and seeing herself in the magazine is a dream come true.
She currently stars in her own podcast named, Validated By Victoria, where talks all things valid. From getting through life's struggles, how to get abs, bad dates, and more, Victoria tells it how it is.  "I love talking about all things that I think are valid in my life and what others should know from dating to grief." Stay tuned as she's rebranding the podcast and line up of guests! She can't wait for it to debut soon.
Victoria wants to be remembered as someone who endured the fire but still rose from the ashes, especially after her mom's passing. She wants the world to know her name in a positive light and leave a mark with everyone she meets. 
She is currently transitioning into more TV and Film, as well as, taking over her Dad's company while creating her own. She has multiple projects in the works as she's rebranding herself this summer. 
You can keep up with Victoria on social media  @VictoriaVesce