At 16 years old, most kids aren't focused on the importance of their future or their passions, but Chicago native Nichelle Joi has been executing her dreams since a very young age. A four-time published author, dancer, violinist, actress, and aspiring filmmaker, Nichelle is a force to be reckoned with. 
"You Are Never Too Young to Do Anything."
 Nichelle Joi is the epitome of you are never too young to do anything. By the fourth grade, she had found her love for writing through a class assignment, that would eventually turn into her first book, The Joys of Writing: Short Stories for Kids, following The Great Adventures: The Mystery of the Missing Artifacts, which both were featured in the African American Literary Festival in Chicago. 
 As a young writer, Nichelle noticed there weren't many representations of people that looked like her, and she was determined to write books and for children to recognize themselves in her craft. Her third book, Beautiful Brown Child, was visually narrated by 45 beautiful brown children, while her last book My Camera and Me, journals her discovery of her passion for filmmaking. 
"Find A Creative Space and Go for It"
While Nichelle has an extensive writing history and published books to showcase her craft, her talents don't stop there. Nichelle is a professional violinist, dancer, and actress who loves filmmaking. Her goals for herself are nothing short of amazing, with plans to attend the University of Southern California on a full scholarship; she also dreams of working on a big movie project. She believes her gift of writing is what inspires her visions and God-given gift for filmmaking.
With her biggest inspiration in writing being her mother Marilyn, Nichelle shares that though her mother doesn't share her creative works often, she's thankful to see how beautifully she writes. She attributes her mother's experience, motivation, work ethic, drive, and determination as essential components of her own career foundation. She also expressed high gratitude to her high-school film teacher for navigating her through the ebbs and flows of creating. 
Although Nichelle has accomplished so much by the age of 16, she has experienced writer's block, in which she shares how seeking others' perspectives can assist in that process.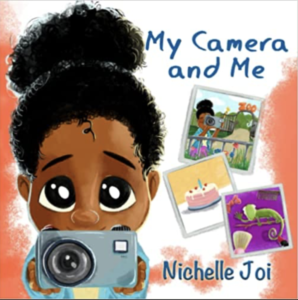 One of her biggest challenges is knowing how to switch from being a professional and just being a 16-year-old when hanging out with her friends, but she enjoys seeing the different perspectives of them all. Whether she chooses to write, dance, act, or become a filmmaker, Nichelle encourages all kids to push through all of the obstacles they will face, take in everything they read because it will help them develop in different ways, and don't be afraid to step outside of your comfort zone to see the greatness on the other side. 
Keep up with Nichelle Joi and learn more about her upcoming books and films below:
Instagram: Nichellejoi_official