Tracy Slepcevic holds many titles: author, Certified Integrative Health Coach, speaker, Air Force Veteran, Founder of Pur Health, LLC, and now she's adding a new one– Warrior Mom. Her extensive background in Complementary and Alternative Medicine coupled with her son's Autism Spectrum Disorder (ASD) diagnosis, inspired her to bring awareness to an often misunderstood condition.
The Warrior Mom has always had an interest in medicine and was once a personal trainer studying nutrition. Tracy has dedicated over 14 years to researching various treatments and therapies for individuals with Autism Spectrum Disorder (ASD). Once her son Noah was diagnosed with autism, it awoke the warrior inside her and she decided to fight back.
Autism Spectrum Disorder is a developmental disorder that can result in severe social, communication, and behavioral difficulties. Individuals with ASD frequently struggle with social communication and engagement, as well as restricted or repetitive interests or behaviors. These individuals may also have different approaches to learning, functioning, or paying attention.
She decided to take a different approach to medicine and heal his underlying conditions with diet and nutrition. Noah responded really well to a strict diet and was able to regain his speech and some cognitive abilities; it made the biggest difference in his healing journey. Soon after, she returned to school to study alternative medicine.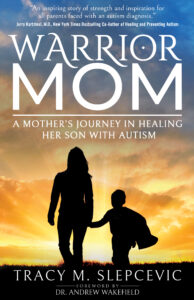 Tracy explains ASD is a very broad spectrum and not all children are the same. One of the biggest misconceptions she found was that all individuals with autism fall under the same criteria when diagnosing and are thought to have the same symptoms; which she says is not true. "Autism is a spectrum disorder, meaning it affects everyone differently and to varying degrees – each person will have their own unique set of strengths and challenges. Also, autism is usually said to be a lifelong condition, but a number of children lose the core symptoms and shed the diagnosis with early biomedical intervention."
Over the years, Tracy has worked with various doctors, scientists, advocates, and researchers, and it is her mission to educate families on the importance of living a healthy lifestyle. Now she is sharing her learnings with other parents of children who may be in her and Noah's shoes with Warrior Mom: A Mother's Journey in Healing Her Son with Autism.
'Warrior Mom' is an inspiring story of hope and an indispensable guidebook for any parent searching for answers to help them navigate the system, evaluate different treatment options, and heal their child's underlying conditions. Even for parents who suspect their child might have autism, Warrior Mom is a wealth of information and guidance to help your child get the care they need to live a normal, productive life.
Ultimately Tracy shows us that autism is not a "hopeless diagnosis." It is only the beginning of a beautiful journey, and if you set a clear intention for your child to live a healthy and fully functional life, anything is possible. She credits Noah as her biggest teacher. He has taught her to 'think outside the box,' and that life can look a whole lot different if you live from a space of love and not fear.
For parents in the same position, Tracy says, "This is just the beginning of a beautiful journey. In life, you always have a choice… you can look at the glass half full or half empty. There is so much to learn from having a child with ASD and the possibilities in life are endless. But most of all… have faith."
Tracy wants to reach as many parents as possible to assist them on their journey to healing starting by getting this book into the hands of every parent and caregiver impacted by autism.
The paperback edition of Warrior Mom book releases on April 4th. Be sure to connect with Tracy and order your copy of Warrior Mom below: