This is NOT a drill! 
Yes, there is a HISTORY MAKING woman who stands out in the crowd of candidates aiming for Lieutenant Governorship in the great state of Georgia! 
She's a proud Democrat, queer, progressive woman by the name of Renitta Shannon! Yup, she's boycotted sitting Governor Brian Kemp, protested for abortion rights and you guessed it–she's even been thrown out of the state Capital for unapologetically speaking her mind
Those who already know Renitta, call her a people's champion! Those that don't know her now, soon will if she makes history by being elected as the first LGBTQIA+ to hold a statewide office.
Georgia State Representative Renitta Shannon is known (virally) for using her platform to represent people in marginalized communities and this year she plans to fight unjust legislation at new heights. She also made history in her candidacy for Lt. Governor of Georgia as she is the only woman of color and only openly gay candidate to enter the race.
At 42 years old, Rep. Shannon currently serves as a state representative in Atlanta. In 2017, she was sworn into the Georgia State House of Representatives, to represent the 84th district. Since taking on a state seat, she has utilized her impactful public platform to represent and create legislation for marginalized communities. The equal and fair treatment of communities of color is central to Renitta's legislative work. This includes tackling the systemic racial and economic biases built into Georgia's criminal justice system, combatting voting restrictions, and advocating for better working conditions. She sponsored bills to increase police accountability and advance equal justice under the law for everyone. Renitta has also worked on Georgia's systemic problems with mass incarceration and school-to-prison pipelines.
Her campaign support is on fire as she has secured endorsement after endorsement, showing her opponents that she–and her supporters are putting their money, voices, and voting power where their mouths are! To date, she's received official backing from Georgia Equality, Black Male Voter Project, Elect Black Women, LPAC, Fund Her, and She the People. It doesn't hurt that some of our favorite celebrities are posting about her–with legendary actress Jamie Lee Curtis fawning over her via her 4 million people-strong Instagram audience.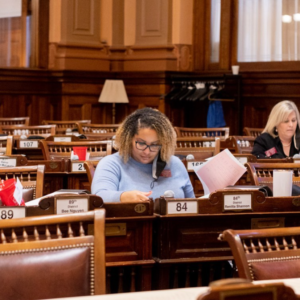 A little about this powerhouse: 
Renitta was raised by her hardworking parents who often worked minimum wage-earning jobs. Her upbringing encouraged her determination to work hard and succeed. As a college student, Renitta worked as a restaurant server, earned scholarships and took out student loans to keep her educational goals on track. With the help of her parents, she graduated from the University of Florida–with a clear understanding of what the average American citizen faces.
She is known for her community organizing work around economic, racial, reproductive freedom, healthcare and gender justice. These on-the-ground challenges equipped her to serve in the Georgia State House. 
In her first year as a legislator, Renitta was awarded "Most Valuable Legislator" for her work on the sexual assault policy.  In 2019, Renitta was physically removed from the Georgia General Assembly's House floor by security (we mentioned this earlier) during her dissent against Georgia House Bill 481, a bill sponsored by Georgia's Republican party to effectively outlaw abortion in the state. In her effort to stop the bill from coming to a vote, she spoke against the bill and refused to cede the podium "I was not going to just let them pass this like some tax bill that nobody cares about." The ruckus paid an unexpected dividend as it landed her an appearance on the Roland Martin show shortly thereafter to recount the chain of events leading up to the dramatic exit. 
Renitta has been a consistent advocate for LGBTQ+ rights and in 2017 she came out as bisexual, making her the first bi-sexual legislator to serve in the Georgia General Assembly. She is continuing her fight to represent underserved communities with her campaign for Lieutenant Governor of Georgia.
Announcing her intentions to run in September 2021, we've been keeping an eye on her speeches and political chess moves. On March 15, 2022, she made a hugely impactful speech about voter suppression that captured the ears of civil rights juggernaut Attorney Sherrilyn Ifill and change-demanding civilians alike! https://www.youtube.com/watch?v=k4m0wDyROFU&t=326s
Change is needed and she seems to be up to the challenge. Can this woman send another message to the state that changed their shirts from red to blue in the last presidential election? Only time will tell. 
Want to contribute or learn more? Visit:https://renittashannon.com/