The common theme of Akai Jackson's career has always been helping people grow into the best version of themselves. The longtime entrepreneur's dynamic approach to health and wealth wellness is the byproduct of formal education, life experience as a decorated college athlete, and his own personal journey with mindfulness and growth. 
The pivotal moment in his life was when he was injured playing basketball in high school. His college basketball dreams were shattered . The injury he received came out of the blue, blindsiding him and his hopes. The sudden change affected his mental state and happiness. He had to step back and focus on his mental health. This period of self reflection changed his life forever and helped shape his career path. 
Akai owns the personal development agency, I.X.L. Today. It curates mindset shift programs that transform clients from existing to excelling in their physical, mental, and financial health. He focuses on the importance of mindfulness to grow through any situation, how to get started and give people tools for their mental strength.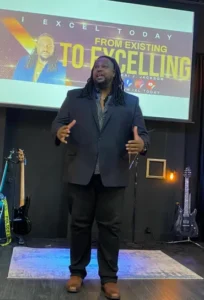 He states "In 2019, about 20 percent of Americans experienced a mental illness. That's about 50 million Americans." Mental health and wellness is a topic not talked about enough. It is stigmatized and most people don't know how to excel and not just exist." The most common fears I help my clients overcome are the fear of change, loneliness, rejection, uncertainty, something bad happening, and the fear of failure."
The two ways Akai treats depression in his practice are CONNECTIVITY & COPING SKILLS. When people are depressed they tend to isolate themselves. I.X.L. 's Cognitive Behavior Therapy matched with Mindfulness-Based Cognitive Therapy and Behavioral Change in Exercise approach is second to none and very applicable and effective immediately.
We all have our bad days but Akai tries to stay positive through it all. The way he's able to do this is by asking himself one question everyday. "What if when I woke up this morning, all I had was what I was grateful for the day before." This allows him to think about every little thing he is grateful for. It's something he recommends everyone does each morning.
For the remainder of 2022, Akai plans to release a course called 26 Weeks To Live. It focuses on how anyone can plug into who they are and what they do. This 6 month program will catapult you from simply existing to living purposefully. He's also started penning his second book, Winning the War.   
To learn more about I.X.L. Today and get obtain your free mindset journal visit: https://ixl.today/
Follow him on social @ akai.jackson22