Women's empowerment is creating all the buzz on OWN TV's newest hit series, Marry Me Now! The new impromptu show documents eight potential brides as they prepare to pop the big question to their romantic partners. The Saturday night show chronicles hopeful brides on their quest to get successfully engaged, find a dress, and head to the altar in less than a week. The brides are not alone! That's where the internationally renowned relationship expert Rebecca Lynn Pope steps in. Pope is a relationship expert headquartered in Atlanta, Georgia. She is widely known for her innovative life and love coaching courses and her sensational YouTube platform, where she has gone viral to the tune of millions of channel views.
Growing up, Rebecca was heavily influenced by the ministry with her father being a pastor. After attending the University of Washington, she would get her start as a matchmaker and would later transition into a life and love coach. Her life coaching packages She offered retreats, events, and classes that continually sold out nationwide. She later founded the Godly Girls Club, an organization for women of faith with over 12,000 members globally. Her work has been featured in People Magazine, Fox News Morning Shows, Essence Magazine, iHeart Radio and she also served as a columnist for Black Bride Magazine.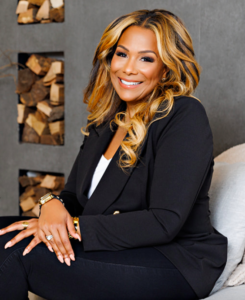 Her imprint gained greater momentum when she started posting relationship advice on YouTube with nearly 100K loyal subscribers (To date, her most viral video Why Women Have Totally Unrealistic Standards for Men, Dating, and Marriage has over 1.7 million views). This is Where she would garner the attention of the OWN Executive Team. Rebecca is on record saying "When they approached me, I had no idea it was an OWN show… When they described the host for the show, it sounded just like me. I could just show up and be myself." 
Before (and still), Rebecca is the CEO and founder of several global six and seven-figure businesses and brands. She has always loved building businesses and currently coaches spirit-led entrepreneurs on how to create multiple streams of income and scale revenue up.  Pope co-owns Abundant Life Path, with her husband Kerry A. Pope where they have trained 250 plus abundant life coaches.  She is also the CEO of the Abundant Life Path Coaching Certification program and- Millionaire Coach branding and marketing company aptly titled, called the Millionaire Coach. Her best-seller Love and Dating in the 21st Century: A Godly Girl's Guide is a raw and real guide about why relationships have become so complicated and how anyone can successfully navigate dating and love.
For those yearning for a healthy relationship, Rebecca says "the work won't be easy, but getting real with yourself and facing your issues head-on will make you a better partner and will help you attract better quality partners."
Want more? You can catch Rebecca giving her expertise on  Marry Me Now every Saturday at 9 PM EST on the OWN and Discovery+ networks.
Show the love doctor some love Also you can find her on social media @rebeccalynnpope. Subscribe to YouTube Channel HERE!