"Every day, I am a witness and an ear to many of our local residents fighting for better opportunities or just a better life. I am hoping to inspire, educate, and provide hope that there are people like myself that are a voice for the voiceless that fair opportunities are imperative such as education and quality healthcare." – Byron Clay Jr., Founder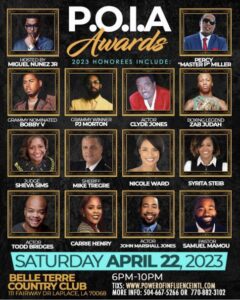 The Power of Influence International has announced its Second Annual Power of Influence Award Ceremony and celebration presented by the NAACP Louisiana State Conference. The influential 13 honorees will be recognized in the Greater New Orleans Area of LaPlace, Louisiana. 
The goal of the event is to inspire the community by partnering with the NAACP to recognize some of our locals, out-of-state humanitarians, as well as nationally recognized contributors who passionately put forth energy into uplifting the communities here and beyond.
The Power of Influence Awards highlights those who exemplify excellence in arts, music, sports, advocacy, and philanthropy. This year's celebration is hosted by Miguel Nunez Jr and honors Percy 'Master P' Miller, Grammy Nominated Artist Bobby Valentino, Grammy Winner PJ Morton, Actor Clyde Jones, Boxing Legend Zab Judah, Judge Sheva Sims, Sheriff Mike Tregre, Nicole Ward, Syrita Steib, Actor Todd Bridges, Carrie Henry, Actor John Marshall Jones, Min. & SJBPS Board Member Samuel Mamou.
By partnering with President Mike McClanahan and the NAACP Louisiana State Conference, we will continue to carry the torch that our children and beyond will have a better future."– Byron Clay Jr., Founder
This will be a night to remember for the icons being celebrated with a luxe award and special performances, uplifting influential people of color across television, music, sports, politics, media, philanthropy, literature and film.
The celebration will take place April 22, 2023, at the Belle Terre Country Club located at 111 Fairway Dr. LaPlace, LA from 6 pm-10 pm. Parties interested in attending this momentous occasion can purchase tickets at www.powerofinfluenceintl.com.