Meet Tamika Harden, a professional fitness trainer, body makeover specialist, and coronavirus survivor. Before the global health pandemic, Harden ran a viable brick-and-mortar gym, where she easily trained 200+ women a month. 
Life has been no easy journey for Tamika, she struggled heavily with mental health issues through her twenties. The pain and struggle stemmed from being physically what society would consider 'fat' and darkened her thoughts—sometimes to the point of self-harm.
The extra body weight and bullying in her late teens and early 20s inspired Tamika to turn fitness into a career path. Her first step to recovery was acceptance. She says the most important step to recovery was recognizing she needed help and having hope. Her "you got this" mentality was key. Fitness was her healthy outlet for recovery.
She states: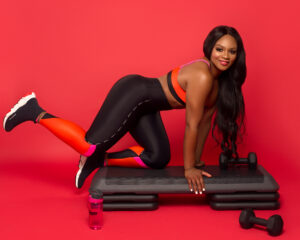 "My first fitness experience taught me the power of change. It taught me that with the right tools and support, one could accomplish goals that once seemed impossible. I wanted to help others change their lives through fitness, the way it changed mine. Fight back with a positive mental attitude and positive action through healthy living and wellness."
As fitness became her career, she was inspired to open her very own gym. She started her business from the bottom up, essentially from scratch. As life is never a straight journey, she was blindsided by the pandemic. Surviving the pandemic was the biggest struggle she's had to face.
"Trying to get clients to resume personal training was challenging. I felt like I was restarting my business all over again – which is frustrating and I felt like giving up. But I keep reminding myself that faith and fear cannot coexist. And I chose faith."
She currently trains most of her clients virtually online and a small percentage in-person at a local gym. She says her purpose is to help people, and now more than ever she wants to do everything in her power to fulfill her purpose. "We can choose to take action and begin to live a healthier lifestyle."
Keep up with Tamika on social @bodybytamika