Now is the time that black excellence is recognized across the country in its entirety and the recognition continued on June 18, 2022, with the third Crown Jewels of Excellence Ceremony hosted by the Black Walk of Fame in Atlanta, Ga. The two-part event took place at the intersection of MLKJ Dr and Northside Drive followed by a live celebration at Home Depot Backyard.
The Walk of Fame is a joint initiative created by the Black American Music Association (BAM) and Georgia Entertainment Caucus.  The black American music Association was founded by Michael Mauldin and Demmette Guidry and is dedicated to monitoring media and advocating the preservation and celebration of the art form known as Black Music. The Georgia entertainment caucus is run by Catherine Brewton and State Representative Erica Thomas and focuses on bridging the gap between the Georgia Political Sector and the Entertainment industry.
With over 3000 festival attendees and 250 celebrity attendees, the ceremony was a site of momentous celebration for the luminaries and icons impacting black culture. It aims to "Honor iconic individuals and organizations that have impacted Black culture and community alongside those who continue to lead us into the future."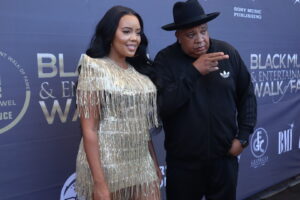 This year's inductees included Cathy Hughes, Edward Kennedy "Duke" Ellington, Kenny Gamble & Leon Huff, Robert Smith, RUN DMC, T.D. Jakes, Charlie Wilson, Donnie McClurkin, Tamela Mann, The Clark Sisters, NAS, Angela Bassett, Steve Harvey, Bob Marley, Patti LaBelle, and Prince. 
The ceremony began with an introduction by the hosts LeToya Luckett and Willie Moore Jr. followed by greetings from Georgia Representative Erica Thomas. After formal welcomes, it was time to unveil the Crown Jewels of excellence.
To celebrate the inductees as well as The newly minted Juneteenth holiday, a massive celebration was held at the grassy Home Depot Backyard including a star-studded red carpet. Some stars in attendance were Mayor Andre Dickens, Representative Erica Thomas, Vince Barry, Elijah Blakes, LaTocha Scott, Julian Marley, Jac Ross, Angela Simmons, Damian DJ Jackson, April, and Edward Ellington Jr.,  Sir the Baptist, Jekalyn Carr, and more.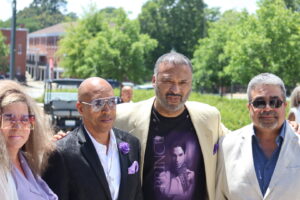 For the celebration, BMEWOF introduced a unique culinary experience curated by Chef Daryl Shular, who is one of the most talented and respected chefs in the country. Shular is the first African American and minority chef to successfully become a Certified Master Chef. The menu included an array of seafood, meats, southern cuisine, and delectable desserts. 
The night ended with a spectacular firework display, featuring one of Prince's most popular  songs "Let's Go Crazy."
The Crown Jewel of Excellence emblems for June 2022 – and for every class of inductees moving forward – will continue to be added at the BMEWOF's location in historic downtown Atlanta, preserved for all the world to see, and for generations to come.
For more information on the organization and how to participate at the next induction ceremony, visit: WEBSITE 
Follow the walk of fame's official Instagram @blackwalkoffame