Leading healthier lives has been a huge topic of discussion, especially since the rise of the global pandemic. People are looking to be more sanitary, active, and conscious of what they put in their bodies. One of those ways is being conscious of the foods we put into our bodies. Kale My Name is an innovative, award-winning vegan restaurant bringing culture and fun to lifestyle. Founded by Nemanja Golubovic, the restaurant became an instant success while gaining praise from some of today's biggest stars. With two critically acclaimed locations in Chicago and Los Angeles, Kale My Name is soon to become a worldwide phenomenon.
Golubovic is a native of Montenegro and a worldly individual living in Spain, Mexico, and the middle east, to name a few places. These experiences would help him create his vegan empire. He fell into hospitality by looking for a job after immigrating to America and held many different positions. The connections he made and the responses he received from his customers would prompt him to start his independent venture in the industry. These experiences would help him create his vegan empire. 
The Chicago-based Kale My Name became an immense success when doors officially opened in April 2020. The establishment got its catchy name from the hit 1999 Destiny's Child record 'Say My Name.'  Golubovic recalls that time saying, "I was listening to the song while creating the menu and thought, this song is catchy." The popular restaurant chain acquired its notoriety as being "100% plant-based". With their inclusive thinking, he adopted his brand's mantra "vegan for the animals, for our health, and the earth". The establishment received a neighborly welcome during the opening weekend, running through 500+ to-go bags that the CEO originally purchased assuming it would remain for a minimum of three months. Initially projecting $200 – $300 daily revenue within two years, "Kale My Name" made over 4 million dollars in sales which, landed them one of the most successful vegan restaurants in America.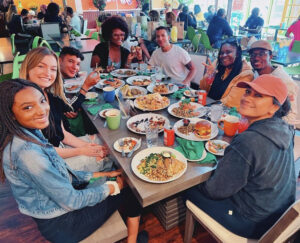 When asked about the vegan component of his restaurant, Nemanja notes it was important because he is vegan. "I went vegan for many reasons, the main one being animals. I watched some things and decided they were not cool. He also had a calling to preserve life by helping the world become better, stating, "I felt like I've been given a bit more in life, and I felt like my life started to look good. I figured maybe this is my time to give something back and do something permanent to make a better place." Ultimately, the goal is to be authentic to who he is.
Kale My Name separates itself through their love, joy, and compassion, not for only the animals but for humans as well. They amplify this movement with social media, allowing customers to see the innovative changes and to learn about the people behind the brand. These successful efforts have allowed patrons to feel more connected. The restaurant has success with its range of international cuisines, including its pioneering vegan mozzarella cheese sticks.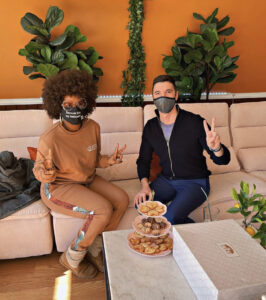 Their tasty menu and message have resonated with many, including renowned Actress Tabitha Brown. During the duration of her residence in Chicago, she converted into a uniformed consumer and fan of "Kale My Name". Tabitha fell in love with the food and restaurant and developed she and Golubovic developed a friendship. Following the rapping of Brown's show, she became disheartened to leave Chicago. Realizing she wouldn't be eating at "Kale My Name", Tabitha suggested Golubovic bring Kale My Name to Los Angeles, to which Golubovic agreed. The second location in Los Angeles, California, opened its doors in December 2021 with the video from the opening acquired over 1.7 million views on Tabitha's viral TikTok handle. Nemanja, who is a fan of Brown, says, "that moment meant a lot, especially from someone I love." Other notable names have endorsed the establishment, including Living Single's Kim Fields, Hidden Figures' Octavia Spencer, Claw's Karrueche Tran, and many others!
The end goal for Nemanja is to "change the way people view plant-based food, one meal at a time." He says people do not have to restrict themselves when becoming vegan and suggests doing things he didn't, including researching and exploring more about veganism. Kale My Name is currently planning to work on fun projects with bigger plans coming in 2023. You can keep up with Nemanja and all the excitement from Kale My Name on Instagram @kalemyname @nekac_golubovic and Facebook: @kalemyname, @nekac_golubovic.