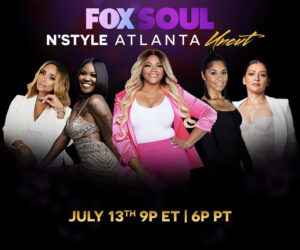 Cameras, Flashing lights, Red Carpets, VIP list – everyone's a Celebrity in the ATL, the new Hollywood of the South; and there's even more wanna-be-journalist reporting it. N'Style Atlanta Uncut is an docu-series about seven charismatic Black and Afro Latino Women who's personalities may collide while working at Atlanta's premier media outlet, N'Style Atlanta. In the world of entertainment whether they're breaking news from red carpets or exclusive premier parties; these women are constantly struggling to maintain a balance of camaraderie and competition to deliver their story first. Can N'Style Atlanta Creator, Carmen Simmons turn nstyleatlanta.com into the premiere media outlet in Atlanta with this group of women before they destroy their friendships. N'Style Atlanta Uncut premieres on Fox Soul Wednesday July 13th 9/8C.

The episode starts off with Carmen stirring up the N'Style Atlanta team by adding a few new players. Nina Blanka introduces herself to the team with a stern productivity review. Jonesy shares her news reporting tips. Destinee comes to the team meeting late. Shayla Raye wants to know if Jett Blakk has the tea on Jonesy, and Terrance Terry takes on a new project. Will old habits die hard or continue?

N'Style Atlanta Uncut Cast includes Carmen Simmons, Jett Blakk, Skyebutterfli, Shayla Raye, Destinee Faith, Nina Blanka, Jonesy aka CJ, Natt Taylor, and Terrance Terry.

N'Style Atlanta (NSA) is a lifestyle and entertainment news outlet reporting on pop / urban culture and celebrity news and featuring Atlanta's local celebrities, designers, businesses and personalities celebrating Atlanta's vibrant and diverse culture and lifestyle. The executive producers for the show are Carmen Simmons, Arturo Ayers Jr, Omar Holland. Notable interviews include Angela Lewis, Rebecca Lynn Pope and Teheran "Tee" Jones.