Dreaming Big
Multifaceted talent, educator, and successful entrepreneur Doretha White is using her 33 years as an educator to provide a lifehack guide, curriculum, and college experience to impact communities and help young adults navigate all their adult responsibilities with ease and confidence. Doretha is a personal and business coach, writer, publisher, speaker, and a gem to those who cross her path.
Advancing the Knowledge of the Youth
In 1991 Doretha White received her degree and embarked on what would become a 30-year journey of professional education. As a native of Virginia with a solid Christian family structure, Doretha originally had big dreams to become a journalist, writer, speaker, and maybe the next Oprah Winfrey, but those dreams didn't instantly become her reality as she may have hoped. With a mother who displayed love and passion for education, Doretha shared the same love and passion for helping others, children, and families. Within her career, she knew she wanted to make an impact. 
Doretha noticed some things didn't serve the community well, including African American families and communities. She grew her interest in advancing the knowledge of the youth by filling in the gaps she witnessed throughout her career. Understanding that all children may not have a strong foundation or mentor, she created a lifehack guidebook, All the Stuff Your Parents Meant to Teach You But Never Got Around To It: The Ultimate Adulting Lifehack Guidebook.
The Ultimate Lifehack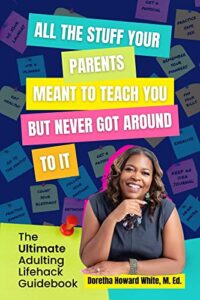 While Doretha has an extensive background in education, she is also a mother, wife, and aunt. Observing her children and wanting to impact the youth is what sparked the idea to create the ultimate life hack guidebook. As a parent, Doretha knew that if she was concerned, wondering if she had taught her children everything, other parents must also be.
In her guidebook designed for ages 16-25+, Doretha provides 101 interactive journal-style lessons with individual sections on self-care, adult & professional skills, relationships, and personal safety. She believes that if you start with love, kids will respond better. You have to be the change you want to see. Doretha White isn't just being the change; she is a part of the initiative that is creating room for change in all communities. As a big dreamer and change maker, Doretha, alongside her husband, made Dream Big Youth Travel in 2003, giving children the ultimate college tour experience. With 20 years of completing tours to HBCUs, PWI, trade schools, art schools, and more, Doretha has helped more than 30,000 children and families know what it means to dream big.
Don't Get Off Your Path; Trust the Maker

Doretha has had an extraordinary life and continues to show her love and passion for education in her entrepreneurial journey. Although she didn't pursue a career in journalism, she has reached a full circle moment by doing precisely what her heart desired all along. She is a published writer, speaker, and creator and makes an impact on the lives of many. One thing Doretha wishes she knew as a young adult was to follow her own heart and not let the fear of others be projected onto her. "The fear of others can knock you off your path, but you have to trust that we all have a creator who gave us a purpose, and if you are determined, you will walk out your path and find your purpose." Even if you get knocked off your path, Doretha White proves that even some of the longest journeys will lead you right back to where you are supposed to be.
Keep up and learn more about Dream Big Youth Travel and Doretha White below: