When building relationships, building a bond that lasts the test of time is the ultimate end goal. This bond is important because it is the foundation of the family and sets the standard moving forward. Those are the same reasons the Married For Life Walk was founded. Founded by Professional Life & Marriage Coach Martez & Woodrina Layton, LPC and R&B Icons and Power couple, Ronnie and Shamari DeVoe, the movement is moving into its 5th successful year of "helping couples of different ethnicity, and backgrounds to build strong marriage relationships."
This Marriage Movement was inspired by the founders' own fight for their love. Martez states,  "Being a man full of faith,  he heard the spirit of the Lord speak to his heart by instructing him, "to hold Woodrina's hand each day and simply walk and talk with her." Over time this built an empowering bond of which they saw results. Today, they have been married for nearly 30 years. 
Married 4 Life Walk is a two-day event where couples will connect, share, and stand with one another in the name of love.  The M4LW Experience advocates for the importance of professional marriage coaching and counseling in relationships for prevention and to help couples navigate through challenging times. The movement is important because it combats the increasing divorce rate. Co-Founder Woodrina Layton states the M4LW helps to correct the course of failing marriages by equipping couples with practical tools that they can use in their relationship to build their emotional intimacy with one another and strengthen their marital bond.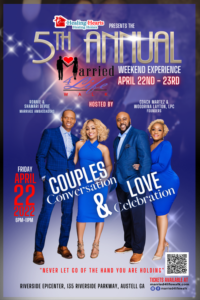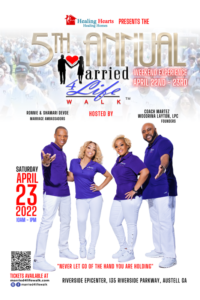 Having faced their own obstacles, Ronnie DeVoe (New Edition) and Shamari DeVoe (Blaque, and Encore on BET), decided to seek guidance from the Laytons. After successful coaching and understanding the importance of having a solid partner firsthand, they decided to join the Married 4 Life Walk movement as vision partners. 
Not only does the movement improve relationships, but it also strengthens entire families. Founder Martez Layton CPC finds that a healthy two-parent household benefits the family dynamic in many ways. One major benefit is being able to have combined resources of emotional support, financial support, and energy needed to raise children and to deal with the stressors and challenges of family life. It provides the opportunity for no parent or child to feel neglected or have feelings of low self-esteem. A healthy two-parent household also provides an environment that builds teamwork, unity, and acceptance for both parent and child.
The event begins with The Couples Conversation & Love Celebration where couples come together and network. It is followed by relationship enrichment while they enjoy DJ, dancing, a special performance by Ronnie & Shamari DeVoe, and more!. The goal is to start the weekend off with learning, having fun and celebrating your love, and remembering to "Never Let Go Of The Hand You Are Holding." The following Saturday, couples will participate in the 2-mile unity walk symbolizing their unity.  While holding hands during the 2-mile walk, couples experience firsthand the importance and benefits of taking time in their relationship to hold hands and walk together.
The 5th annual Married 4 Life Walk kicks off on April 22, 2022. Interested couples can learn more and register now at www.married4lifewalk.com. Also, keep up with all the Married 4 Life Walk updates @married4lifewalk on Instagram and Facebook.