For the past five years, Matte Collection has been taking the swimsuit industry by storm. While the brand is an international ovation, little was known about the visionary behind the brand until now!
Meet Justina, the creative designer and founder of the insta-famous brand Matte Collection. Founded in 2017, the brand has endured immense success and after a successful Swim Week show in Miami, the creative and her sleek designs are here to stay.
Hailing from a small town in Ohio, the young designer has always had a passion for fashion. Justina grew up surrounded by entrepreneurs where she gained first and secondhand experience. She often assisted in her grandmother's store and would later try her hand in her own clothing business. Over time, the designer noticed that her swimwear designs were a tremendous success and would birth the booming brand that we have known and come to love today.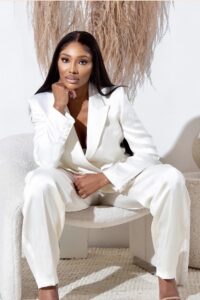 Fast forward to 2017, Matte Collection made its impactful debut. The 'for women by women brand' stands on the founding idea that every woman should be able to look and feel her best without breaking the bank. Matte Collection prides itself on embracing clean, simple, minimalist clothing. The diverse brand is forward-thinking, offering a wide array of colors and designs to cater to every woman.
Inclusivity is imperative in every aspect of the design process with Justina on record as saying, "when I'm designing, if I'm using a certain color palette, animal prints, or whatever the case may be, I try to include a piece that will go across several different body types. 
 "[I want to give] several different body types an opportunity to buy from that collection and be happy it is fitting to their shape."
Besides their sleek and sexy swimwear, the brand also offers fashionable swim accessories and their neutral Matte Basix Athleisure line, which includes dresses, jumpsuits, bodysuits, and more. 
Some of our favorite celebrities and influencers have sported the brand, including La La Anthony, Meagan Good, Angela Simmons, and more, who have collaborated with the brand. This summer, the brand is a triple threat releasing three viral swimsuits collections- Confidence Campaign, Resort, and Island Tropics.
Justina hopes her impactful strides inspire other brands to become more inclusive in the swimwear industry. To keep up with Justina and Matte Collection's innovative style, visit their website www.mattecollection.com and their social media @mattecollection on all platforms.