Meet the Laughing Lovebugs! Married couple Lauren and Alik Colbert, a husband and wife team of Certified Laughter Yoga Teachers. Yes, you heard right, their official title is 'Laughter Yogis".
You may ask yourself what is a Laughter Yogi? Lauren and Alik facilitate laughter yoga sessions virtually or in person for people of ages and all walks of life. Laughter yoga (Hasyayoga) is a unique exercise routine to improve health and well-being using prolonged voluntary laughter. They combine laughter exercises & deep breathing with childlike playfulness & movement to connect, unwind, and let go!  No jokes, good mood, flexibility, yoga clothing, or even a yoga mat is needed!
This all started when the couple was facing extreme stress stemming from workplace issues. Lauren googled unique fun ways to relieve stress and found laughter yoga. After their first session together, there was no going back! The session was such a transformative experience, they decided to enroll in the course together to become certified laughter yoga facilitators.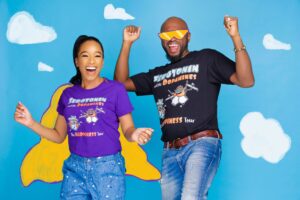 Lauren and Alik state, " We think helping people feel better is important because so many people are stressed, angry, lonely, or depressed. We have a passion to elevate, uplift, restore, and awaken the trajectory of joy in people. We love to assist and inspire people. We infuse each human interaction with love, peace, and laughter."
Do you wonder what goes on in one of their sessions?  Laughter Yoga involves getting together for about 20 minutes or more for the purpose of laughing to reap the health benefits. During this time you'll practice yoga breathing techniques (Pranayama) which brings more oxygen to the brain and body. This stimulates a physiological response that helps us to feel more energetic and healthy!
The list of benefits from laughter yoga goes on and on. Scientific studies show that it strengthens the immune system, increases the presence of infection-fighting antibodies, alleviates pain, relieves tensions, lowers blood pressure, controls blood sugar, and keeps the heart healthy. Other proven benefits include but are not limited to boost in confidence and motivation, reduced burnout, and improved sleeping patterns. Doesn't that sound amazing?
Being able to provide their services to others is like dreaming while being awake for the couple. They state it feels amazing to help people take their power back. Laughing Lovebugs is for everyone, from one to one hundred! Currently, Lauren and Alik offer customized laughter yoga sessions for individuals, groups, couples, workplaces, schools, mental health organizations, summits, retreats, hospitals, senior centers and more. Companies they previously provided services for are Google, Microsoft, eBay, Amazon, LYFT, Paypal, 1800 Flowers and more! 
As for the rest of 2022, Lauren and Alik will be launching laughter merchandise as well as offer wellness retreats for groups that are looking to travel the world with them for a 4 day feel good getaway experience. 
"Overall we will continue to celebrate the excitement of this laughter lifestyle on the path to success. Success for us is less strife and less stress so that we can continue to do our best to strive forward, progress, and achieve together for the rest of this year and beyond."
You can keep up with Laughing Lovebugs, Lauren and Alik at @laughinglovebugs on Instagram. You can book a session with them on their website:
https://www.laughinglovebugs.com/