As a lifelong advocate for minorities, Yusuf Henriques is a GeneUs who was able to create innovations to create solutions across multiple industries with his background in health and technology. He is now using his previous experiences to innovate a market that's virtually uninhabited by those communities– the podcast market. As co-founder of the ALIVE Podcast Network, he successfully blends health, tech, and entertainment as a leader and host to elevate the community once again.

Henriques is a Jamaican native who was destined to be a dominant force in the STEM industry. From an early age he was intrigued by the industry. He knew the periodic table by age 8 and was always fascinated with chemistry and physics. Yusuf says he spent a lot of time watching popular scientist Doogie Howser. He blew through medical school at 12 and went on to help senior scientists and medical doctors discover disease and other medical conditions affecting his area.

This would inspire him to create the innovative healthcare brand IndyGeneUS which helps to solve disparities in Black and Brown Communities. He notes that these groups were affected by the pandemic 4x more than the majority in the US and he found that the underlying condition was the lack of government funding causing major devastation to those communities. Yusuf even spoke on this for MIT's Hacking Racism Listening Summit where they tried to hack some of the structural racism in healthcare. He was later inspired to create the same impact in a new market.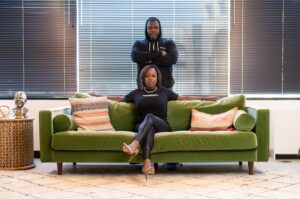 Yusuf's extensive career has allowed him to work across multiple industries, most recently the streaming industry. After the height of the pandemic, Yusuf met and partnered with ALIVE Podcast Network CEO Angel N. Livas to combine their efforts of elevating Black and Brown communities in a unique way.

With social media being a great way to express yourself and share content, there was a common theme presented with each platform- the lack of protection and capitalization for the Black and Brown communities. As an advocate for Black and Brown communities, Yusuf states that the company's target audience and mission was the driving factor for supporting the double minority owned imprint.

The ALIVE Podcast Network provides a safe haven to minority creatives while educating them on protecting their content and putting dollars in their pockets. They proudly introduce a unique, user-friendly experience whether you're a subscriber or host. This is represented in their e-commerce market where they can monitor buying patterns to rotate wealth with the community. Hosts can also receive podcast education, and share a 50% revenue split with their host.

Not only does Yusuf serve as an executive for the platform but he also doubles as a host with the Gene-US Health Minute. He and Livas break down sophisticated medical terms and what they mean for us in 5 minutes or less.

As an active advocate walking in his purpose, Yusuf's efforts are leaving an impact in our daily lives. He states he wants his legacy to be that "I want to leave the world a little better than he found it." His impact is sure to help Black and Brown creatives catapult economically.

You can find more on Yusuf and ALIVE below:
Yusuf Henriques
ALIVE Podcast Network