Gabi Mazar constantly thinks about how she can make a difference and create an impact with her current path. She would soon find that answer with endless love for exercise. Working with clients drives her, and their success is a huge motivator. With a go-getter mentality, Gabi successfully created a fitness empire, helping others improve and enjoy their lives.
The importance of staying fit was instilled into Mazar from a young age as her father was an active sports coach. Gabi was an all-around athlete herself, participating in activities such as swimming, gymnastics, dance, and volleyball. In her collegiate years, she decided to take on business but couldn't shake her interest in fitness and nutrition. This led her to major in Interdisciplinary Studies with concentrations in Small Business and Exercise & Wellness. She later became certified in NASM, Stretch to Win FST, and PMA Pilates.
Over the next 15 years, Gabi immersed herself in the fitness world beginning as an intern. She continued that role off and on until opening her first fitness oasis. She spent the next seven years building her brand. Gabi states "I cannot say the journey was easy. There were many times I cried and thought about quitting, and doing something else, but my passion for what I do, and my clients kept me going." During this time there was another obstacle on the horizon.
While growing her gym, Gabi neglected her health and fell ill an untimely autoimmune disease. She endured rapid weight gain, incredible brain fog, sleeping 12-17 hours a day, memory loss, and other symptoms. She would later be diagnosed with Hashimoto's Thyroiditis. This diagnosis was an eye-opening experience for Gabi who states, "previously, I had the idea that everyone could do any form of exercise it was just a matter of modification. Hashimoto's changed my life. It changed my perspective. It changed everything."
"I have always believed in everything in moderation, but what do you do when your life is turned upside down?"
Gabi's journey to wellness took years but changed how she saw others, saying, "We all have different bodies, injuries, illnesses, and ailments, and to say we should, or can all do the same things is incorrect." She had to drastically change what she ate, how she exercised, and how to schedule her life to what worked for her. From this, helping others figure out what works best for them has become her goal.
Despite her setback, Gabi found success in building her loyal client base and expanding her fitness empire. Pilates Tempe is a pilates studio community offering over 70 classes every day. Their Services include private appointments, in-person and virtual classes, and live stream classes.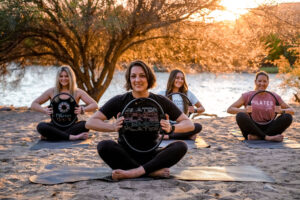 In 2019, Gabi decided to take her fitness imprint worldwide with Destination Fitcations. The platform stemmed from her love for fitness and travel. The goal was to take people around the world and show them the most amazing time, while still incorporating her daily routine."Fitness isn't a means to an end and should be incorporated into all aspects of our lives. Being healthy and learning how to live healthily and moderately, even on vacation, is something I want to show people," she explains.
Throughout her journey, Gabi has found joy in her working with clients and learning new things. She says, "The longer you work with clients, the more you learn about how to work with injuries or how to train and modify workouts for different people. The more you learn, the more people you can help." Gabi also finds excitement in seeing when clients hit milestones, make progress, and reach goals no matter if it is a weight loss goal, a health goal, or just something as simple as going to the gym 3 times a week. 
"You are a positive influence in people's lives, and there is nothing better than being that for someone."
When asked for some workout tips for beginners, Gabi says, "start simple. Don't try to overthink it or overbook yourself. Whatever you do, make it something you can stick with and stay consistent with. When you have made that commitment to yourself, then you can add to that. The key to any successful health goal is consistency, not how hard you go today just to quit tomorrow." 
As for now, Gabi focuses on building Pilates Tempe and Destination Fitcations. She plans to create a second location for Pilates Tempe and incorporate new fitness destinations. Her biggest goal is to continue to focus on serving the amazing clients she has now. 
You can join a class in Tempe at www.pilatestempe.com or join one of Gabi's fitness vacations at https://www.destinationfitcations.com/ You can also watch for updates on Instagram @gabrillemazar, @pilatestempe, and @destination_fitcations.