Stanley Babb is an expert on capturing memories that freezes time so that all the emotions and experiences are never forgotten. Stanley Babb is a photographer, entrepreneur and business owner. Stanley has been featured on Brides Magazine, Harper's Bazaar USA, US Weekly, Vogue, People, Yahoo Lifestyle, Sheen, Essence and much more.
Stanley wasn't fully aware of his passion for arts until he recalled how inspired he was by his dad to encapsulate all family events. Growing up in the Bahamas gave him plenty of time to explore his creativity. He lived with his mother, father and younger sister. Stanley delved into photography and a year after his father passed away. It was through his father that he started photography just as a hobby at first.
"I didn't make moves in my business just because others were doing it," said Stanley Babb. "I really had to focus on my needs and develop anything I was lacking."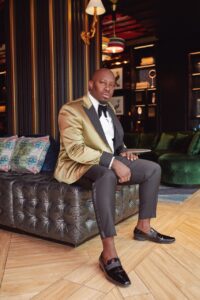 When Stanley began committing to photography, he compared himself to other photographers and didn't imagine himself executing his work on a professional level. After setting goals and achieving them one by one he removed the limits. He wanted to experiment how far his skills could take him.
He now has worked with celebrities such as Cardi B. & Offset, Quavo, Ne-Yo, Trina, Lala Anthony and Naturi Naughton. His most memorable photoshoot would be the wedding of Sloane Stephens & Jozy Altidore. The ambiance and clients were perfect to work with and resulted in marvelous images that appeared on Vogue, Brides and Espn.
Being dedicated and distinct helped Stanley navigate his way in the industry. The advice he would offer to other aspiring photographers would be to seek a mentor and job experience. "Many photographers want to learn but don't want to assist unless they can be paid," said Stanley Babb. "It's actually the best way to learn and get an inside scoop into all of the industry secrets."
This upcoming November he will be photograph a high-profile client and believes it will be the wedding of the year. To learn more about his artwork you can visit https://www.stanlophotography.com/. You can also follow him on his social media platforms @stanlophotography.