Teresa Hardy, current president of the NAACP Dekalb County, Georgia branch has spent much of her career advocating for a growing presence in the community. That's why she's also known as the "Change Agent" when it comes to bridging that gap between the people, government, elected officials, businesses, and other communities. As a woman in the role of such great power, she's received numerous awards for membership increases, political action, voter registration, and voter empowerment at Regional, State, and National NAACP conventions.
Teresa opened up about her path to becoming President of NAACP Dekalb, one in which she says aligned with the kind of person she says has always been—a leader. "For me personally, I've always been a leader. It goes all the way back to elementary school, high school, and college. I moved here 21 years ago and became the Homeowners' Association president, and got skills with doing community activities and engagements there. I became a member of the NAACP about 16 years ago and pretty much started out as a regular member and got involved." After volunteering and being an avid participator, Teresa went on to become assistant treasurer, Vice President, and eventually president in 2016. 
As a leader, not only just in this organization, but overall, Teresa says she was drawn to a service oriented mindset initially from a workforce perspective, stemming from her work as a management consultant. "I've always been on the advocacy side trying to support and promote Black people. To be able to go and do those things in the community, that's when I switched." Going into the community to do work, as well as being a recruiter for Clark Atlanta University is when Teresa says she noticed a gap in the knowledge and access to opportunities. From there, she knew in that moment it was a goal of hers to learn more on how to close that gap.
Ms. Hardy also took the chance to open up more about efforts and initiatives that are coming from the NAACP Dekalb branch as 2021 closes out. This past November, the branch held its Thanksgiving Turkey Drive-Thru Giveaway, as well as the promotion of voters to head back to the polls for the recent runoff elections. "Promoting local elections is more important to me than the presidential election. If you get a president in and have no congress, you get nothing. If we don't go in heavily on these local elections, we won't be able to thrive. We are also monitoring the redistricting efforts that our elected officials are doing down at the general assembly." She says the branch will continue, as well, with their regular general membership meeting on the fourth Saturday of the month.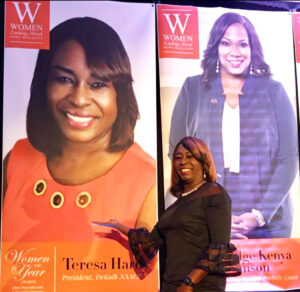 Success has definitely been a part of Teresa's journey in her career. Past accolades include The Community Service Award with DeKalb County Sheriff's Office, Bold and Fearless Award with NCBW Stone Mountain Chapter and Women of the Year Award from Women Media Group. She's even helped the NAACP Dekalb branch with a huge increase in its membership by more than 50%.
Outside of her outstanding leadership role for the renowned organization, and as mentioned before, Teresa does work as a consultant, providing program management expertise to business solutions. In that role, she has been able to build even more of a resumé when it comes to helping others gain more knowledge and resolutions in whatever issues they are faced with. In her own words, Teresa describes herself as "a leader, passionate, and an innovator." She also lives by the quote, "if they don't give you a seat at the table, bring a folding chair."
Regarding future goals and what's on the horizon, Teresa says, "As far as personal goals, I'm still trying to figure that out. I do have some things in mind over the next five years. I do want to expand and expound on my businesses." She also says that as long as she's living and breathing, she will continue to do advocacy work and the possibility of a look into changing public policy.
You can keep up with what's happening with the NAACP Dekalb branch, under President Teresa Hardy's leadership, by following their Instagram page (@naacpdekalb).