Coming from a strong entrepreneurial background and upbringing in Cincinnati, it is no surprise that Master Cosmetologist and Educator Angel Johnson followed in her family's footsteps—becoming a successful business woman. The Atlanta-based cosmetologist has had her work appear on some of the world's most respected  stages, all while being a renowned instructor and salon owner.
Her journey into the beauty world started at the age of 12 when Angel cut her  little brother's hair with a home clipper set. The guard fell off and he had a landing strip straight up the back of his head! As you can imagine, that caused an uproar, but getting into trouble didn't stop her. The incident actually motivated her to improve her cutting skills. From there she became the neighborhood barber. 
Diving into her love of hair and wanting to get official credentials, Angel decided to go to cosmetology school. While in school her focus was cosmetology and barber skills and eventually expanded  to include skin care, nail care, hair removal, hair replacement, and instructing. While Angel was very successful behind the chair, she yearned for more so she took a leap of faith by starting over in Atlanta. She currently teaches at the Aveda Institute and is on staff with the Black-owned hair care brand Design Essentials as an instructor and product specialist.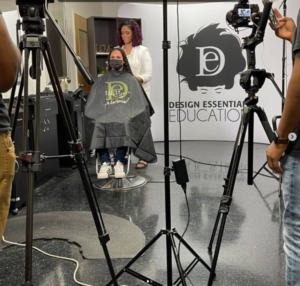 No stranger to celebrities, runways and camera shutters, Angel has had the opportunity to style hair and nails at New York Fashion Week, Brooklyn Fashion Week, Miami Swim Week and several independent fashion showcases! Some of the major designers she's styled for are Raul Penaranda,  Bibhu Mohapatra and Dope Tavio and the list goes on and on! One of her proudest professional moments was seeing  the models she styled during NYFW in Harper's Bazaar China.
Besides being a celebrity hair stylist, Angel is also a cultural activist. She is a proud supporter of the Crown Act and has even created her own educational  movement called We Are Cross Cultural. Her aim is to unite people from all cultures to love and respect one another. 
Keep an eye on Angel, she has many projects she will be executing this year! The Next Fest hair shows are coming up, March 6 in Houston and April 10th in Nashville. Her social media page @shameinthesalon will be expanding to include a  podcast and she will be hosting a signature masterclass on salon business in Atlanta in March.
Follow her on social: @call_on_an_angel