What seemed like a simple learning 'lesson' on Facebook would turn into a worldwide uproar on social media for Mercedes Johnson. A simple post she made on her lunch break would change her entire life in only two hours. The post that originated on Facebook found its way onto Twitter, Reddit, and several social platforms—which opened up an explicit discussion on salary negotiation and the public's sentiments about recruiters. 
Mercedes Johnson, who describes herself as a family-oriented, fun-loving faithfluencer, was offered a position in recruiting fresh out of high school and was able to work her way up fast through the ranks. The freelance recruiter would go on to work for some of the most prestigious corporations offering her expertise as a liaison within the hiring process.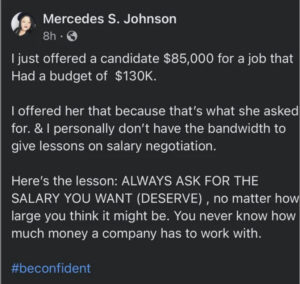 The talent acquisition consultant that once lived a quiet life would soon garner the attention of the world with her controversial insight into salary negotiation. Her post (pictured left) would go on to explain how she gave a candidate what she offered versus what the budget allowed- which left a bad taste in the mouths of many. The post would go on to receive 35k+ retweets, 215k+ likes, and 2332K+ comments after the comment made its way from platform to platform and country to country. 
The conversation opened the door for various perspectives on the topic among those who were upset that she allegedly "lowballed" the candidate, while others felt that accountability shouldn't have been solely based on Mercedes, and she should not be attacked for her opinionated social post. There were also plenty of stories told of those who were triggered by the situation. This backlash would cause the freelancer to be a social media outcast and lose various corporate contracts.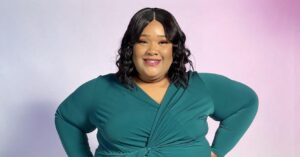 Within a short period of time, she issued a statement in an attempt to provide clarification, but many still were not pleased. In the post, she states, "The purpose of that post was to empower others to not end up like this particular candidate. I want people to know their worth." Since then, Mercedes has offered an exclusive interview via her YouTube Channel addressing the controversy. Her goal was to "shed light on the intent of the post, clean up inaccuracies, and  ultimately to clear the air."
The video has helped turn some of the chatter in a different direction, but there are individuals that are still not pleased that continue to brutalize Mercedes through commentary about her size, perceived lack of experience, and other irrelevant subjects. It is on record that one unhappy follower posted her home address, prompting hundreds of letters arriving at her door. 
For Mercedes, there is hope that everyone can learn and grow from the situation and that candidates have more insight into the hiring process so that they can advocate for themselves. She insists that she has taken all of the commentaries into account and is processing the experience as a learning experience through the rest of her twenties. 
View the full interview here: Mercedes Johnson Formally Addressing The viral Social Media Post!